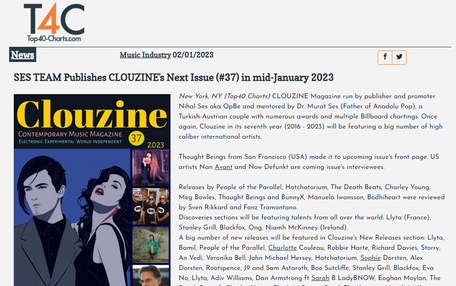 SES TEAM Publishes CLOUZINE's Next Issue (#37) in mid-January 2023 
CLOUZINE Magazine  run by publisher and promoter Nihal Ses aka OpBe and mentored by Dr. Murat Ses (Father of Anadolu Pop), a Turkish-Austrian couple with numerous awards and multiple Billboard chartings. Once again, Clouzine in its seventh year (2016 - 2023) will be featuring a big number of high caliber international artists. 
Thought Beings from San Francisco (USA) made it to upcoming issue's front page.  US artists Nan Avant and Now Defunkt are coming issue's interviewees. 
Releases by People of the Parallel, Hatchatorium, The Death Beats, Charley Young, Meg Bowles, Thought Beings and BunnyX, Manuela Iwansson, Bodhiheart were reviewed by Sven Rikkard and Fonz Tramontano.
Discoveries sections will be featuring talents from all over the world:  Llyta (France), Stanley Grill, Blackfox, Ong, Niamh McKinney (Ireland).
A big number of new releases will be featured in Clouzine's New Releases section:  Llyta, Bamil, People of the Parallel, Charlotte Couleau,  Robbie Harte, Richard Davies, Storry, An Vedi, Veronika Bell, John Michael Hersey, Hatchatorium, Sophie Dorsten, Alex Dorsten, Rootspence,  J9 and Sam Astaroth, Boo Sutcliffe, Stanley Grill, Blackfox, Eva No, Llyta, Adiv Williams, Dan Armstrong ft Sarah B LadyBNOW, Eoghan Moylan, The Death Beats ft Charley Young, The L-M Project Band, The Kintners, Niamh McKinney, Studeo, Samantha T, Positronic, Meg Bowles, Joe Normal, Thought Beings and BunnyX, Eric C Powell and Andrea Powell, Manuela Iwansson, Bodhiheart, Star Madman and Fonz Tramontano, 3Mind Blight, Dany Horovitz and more..
The magazine focuses on the international independent music scene, supports lesser known yet high caliber artists, fights against negative feelings of loneliness and frustration of independent artists resulting from ignorance of major focused media. Especially this group of ignored independents finds its way thru research of a highly-motivated team to Clouzine's radar.
Clouzine Magazine gives chance to new and lesser known artists with qualifications, placing them in the magazine, makes interviews, reviews, reports and supports new releases by mentioning them in the social media, in Clouzine's newsletters and its sister publishings (On Our Radar, Clouzine Blog, Shoutout Corner and What's New). 
Interested artists can browse all issues online 
For Clouzine International Music Awards:
Email them at clouzine@yahoo.com for more information.
https://www.facebook.com/clouzine/