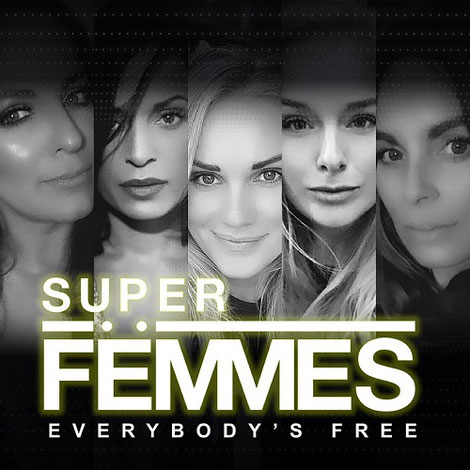 Super Fëmmes is a band with a focus on creating powerful and edgy music that blurs the lines between a wide variety of influences. The line-up consists of the 90s pop Icons Emilia Mitiku, Therese" Drömhus" Grankvist, Denise "DeDe" Lopez Mia Schotte & Josefine Willers from the duo Miio.
The group consists of professional musicians who have achieved significant success in the 90s individually, and they continue to make quality music that inspires the audience. Recently, the group released a stunning rendition of "Everybody's Free," originally made famous by Rozalla. This new version is deeply energetic and fun, combining dance and pop vibes with lots of personality from the talented and charismatic members of this all-females group. 2022 has been a great year for this group, and they continue to spread good vibes and make new fans with new, exciting songs and releases. This is the next in line, and it feels like an amazing milestone for Super Fëmmes, who carry on the legacy of their success as individuals and continue to build the group's fanbase. 
Watch out on Super Fëmmes' take on "Everybody's Free," which is going to be available on the best digital streaming platforms from Friday, April 29th.About
SUPER FËMMES is all about female strength, empowering each other as well as other women. We radiate power, daring to be vulnerable, fun, smart, sensual, and sexy without having to apologize for it. We flirt with 90's era mixed with a modern style inspired by female superheroes such as Charlies Angels, Harlequin, and Spice Girls, combined with glamour, cool and classy touch. We are fun and strong as well as deep and serious. With different backgrounds and stories, we are gathered together as one united group, and we do it proudly with hight integrity. We are excited to challenge age discrimination around female artists in general as well as creating a wider platform for female artists when it comes to music, age, colour, and appearance.
The most commercially successful new act in 2003 with two singles and an album that sold gold.
They have had collaborations with several Swedish rap legends such as Ken Ring, Ayo and Daddy Boastin. During the years they have been touring with the hits and still does.