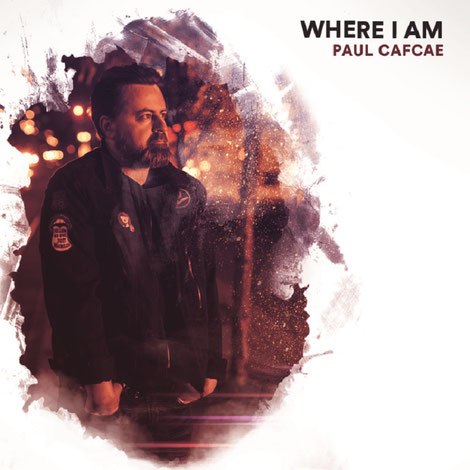 These past few years have been deafening with an influx of confusion to say the least, and while many people are uncertain about where they are in life, a Russian-Canadian rockabilly enthusiast Paul Cafcae knows exactly where he is. After four years of experimenting with music to find his unique style, Cafcae has finally found his home with his latest LP "Where I Am," a place he belongs: in a raw yet optimistic rock 'n' roll roadhouse, soaked in rockabilly, country, and blues.
 If you think that an Eastern European performer has no business dabbling in the Western genres of music, you have another thing coming: the treatments of this records' songs may range from punk to crooner pop, but they all have that unmistakable underlying Americana theme that has consistently earned Cafcae ovations on Canadian stages. Flared with carefully crafted and amazingly delivered arrangements that include a variety of instruments - harmonica, saxophone, Hammond organ, lap steel guitar, flugelhorn, and even a leather belt and an empty milk bottle – this 35-minute record takes you on quite a journey, keeping you engaged from the first song to the last.
Opening the album with "Ontario Rocker," – an infectious autobiographical rock stomper that sets the pace with its lively guitar riffs and bewitching blues harmonica, courtesy of the Venezuelan Hector Ruano, Paul takes the role of a rock n' roll revolutionary in the barn burning "I Ain't Shook" and "The Longest Day of The Year," gathering hope in a rather perplexing world.
 Cafcae's songwriting really comes to life once you begin to listen closely to the lyrics. You realize that these are not your usual superficial rockabilly and country songs – these are condemnations of the different social vices, direct calls to action, appeals to common sense, and pleas for critical thinking. These messages are craftily veiled in metaphors, tropes, and allegories, but they all explore a wide spectrum of issues: exploitation, racism, bullying, division and exclusion, mental health and suicide.
The album develops from song to song, arriving at the extremely social "Not Your Kind," a slow burning, yet haunting, dark blues ballad that could be considered one of Paul's heaviest songs. On top of his iconic Eastern European cadence, Paul lets the fuzz-laden guitar do the talking. Another high on "Where I Am" is during the Hammond organ-led outro jam on "Down to the River."
Listen to these songs again and again, and they will surely remind you of Bob Dylan, John Lennon, and Leonard Cohen, resurrecting their dissatisfaction with the conventional truths and questioning of the fabric of the world, some 50 years after their most prominent records.
"The past year has uncovered myriads of problems that we have been so comfortably ignoring,'" Paul says. "Thinking about them while writing this record, I had gone through a lot of emotions, from sadness to anger, to exhilaration. It was a challenging experience, and at times it felt really hard to stay honest but objective while writing about things that matter to me."
There is no doubt that this premium collection of songs can appeal to a broad audience, young and old, metropolitan and suburban, left and right – anyone who can appreciate a stimulating conversation and an artistic production that is raw, sincere, and devoid of commercial guidance.